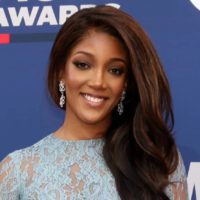 Mickey Guyton has released the title track from her forthcoming album Remember Her Name, which she co-wrote with Parker Welling, Black Hubbard, and Jarrod Ingram. The album, set to be released on September 24, is the follow-up to Mickey's EP, Bridges, and contains 16 tracks, of which Guyton co-wrote all but one. It includes the breakthrough song "Black Like Me," for which she received a Grammy nomination.
Guyton says of the album: "All those years ago, I set out to create music that would make people feel self-empowered, loved, and comfortable with being themselves and this album holds true to all of that."   Regarding the title track, Mickey adds: "it is a song for anyone who has ever felt less than, forgotten or up against impossible obstacles. I hope this song is a reminder of the importance of self-worth and the power of persistence and perseverance."   You can take a listen to "Remember Her Name" – here.
You can pre-order Mickey's new album Remember Her Name – here.
Editorial credit: Kathy Hutchins / Shutterstock.com