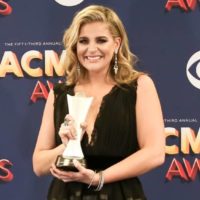 Lauren Alaina announced the release date for her third full-length studio album, Sitting Pretty on Top of the World, on Sept. 3. The new 12-song collection follows her previous EPs Getting Good and Getting Over Him. Alaina offered fans their first taste of new project by releasing the album's lead song "It Was Me." Alaina co-wrote 14 of the album's 15 tracks, including her current single "Getting Over Him," which features Jon Pardi.
Alaina said of the album: "It's about a dreamer becoming an achiever. It's being broken and ending up healed. It's all of me. The early chapters. The new beginnings. The hope for the future and total appreciation for the past. Taking the Road Less Traveled and ending up Sitting Pretty On Top Of The World."
You can pre-order Sitting Pretty on Top of the World – here.
Lauren Alaina Announces 'Sitting Pretty On Top of the World' Album
Editorial credit: Debby Wong / Shutterstock.com