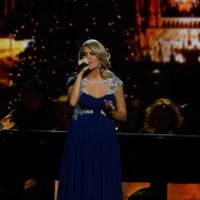 Carrie Underwood announced that she will release a deluxe version of her hit Christmas album 'My Gift,' featuring three additional tracks — including two written by Underwood herself.
The special edition of 'My Gift' will include three new songs: "Favorite Time Of Year," an original tune that first debuted as an Amazon Original exclusive; a live cut of "Let There Be Peace/Something In The Water," which was a part of Underwood's live HBO Max Christmas special from last year; and a never-before-heard performance of Michael W. Smith's "All Is Well."
Underwood said in a press statement: "My Gift is an album I've wanted to make from the beginning of my career. It's been such a blessing to share this special music and I'm excited to share even more with the release of My Gift (Special Edition)."
'My Gift (Special Edition)' is set to drop on September 24, a day shy of the original album's 1-year anniversary. Watch a teaser video for the deluxe album: here.
Unwrap Carrie Underwood's 'My Gift (Special Edition)' on Sept. 24
Editorial credit: Debby Wong / Shutterstock.com