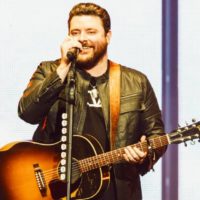 Chris Young and Kane Brown are celebrating their popular song "Famous Friends" reaching No. 1 at country radio, marking Young's 12th No. 1 overall, and the 6th No. 1 hit for Brown.
Taking to social media, Young noted that each #1 song comes with a feeling hard to describe, sharing: "Finding out you have the number one song in Country Music is such a crazy feeling. My career started with a #37 #52 #37 in that order. If you had asked me if I ever thought I'd be celebrating my 12th number one… just wow… no words. @kanebrown_music so proud to share this one with you brother! Thank you to anyone reading this, @coreycrowder @carybarlowe (my co-writers and CC is my coproducer) , and all of Country Radio for sending this one to the top!!! #FamousFriends  #numberone."
"Famous Friends" is the title track from Young's upcoming Famous Friends album, which is set for release on August 6.  Next up, Young and Mitchell Tenpenny will release a live-audience music video for "At the End of the Bar," shot in downtown Nashville, and Young revealed that his next single will be "One of Them Nights," scheduled to drop this Friday, July 9th.
Editorial credit: Olga Steckel / Shutterstock.com