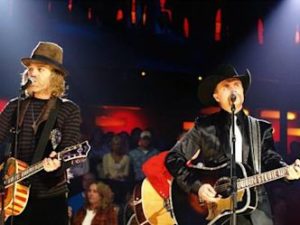 Win your tickets for Downtown Country Jam featuring Big & Rich with special guests Cowboy Troy and DJ Sinister plus Jake McVey and the Tank Anthony Band on Saturday, September 17th in historic downtown Fort Dodge.
Shellabration Inc. is excited to welcome Big & Rich as headliners for our 5th ever Downtown Country Jam event with special guests Cowboy Troy and DJ Sinister. Slated for Saturday, September 17th, the lineup will also include Jake McVey as direct support plus local Fort Dodge favorites the Tank Anthony Band. In celebration of our organization's 20th anniversary, we wanted this year's event to be a party, and a what party it will be!
Downtown Country Jam 2022
5:00PM- Gates open
5:30-6:30PM- The Tank Anthony Band
6:45-8:00PM- Jake McVey
8:30PM- Big & Rich
Big & Rich, comprised of Big Kenny from Hollywood Records and John Rich from the band Lonestar, broke onto the scene with their first studio album Horse of a Different Color in 2004 scoring four Top-40 hits including 8th of November, Coming to Your City, Lost in This Moment and the ever popular Save a Horse (Ride a Cowboy). Subsequent releases yielded hits like Holy Water, Big Time, Never Mind Me, Fake ID (w/ Gretchen Wilson), That's Why I Pray, Lovin' You, Run Away With You, Lovin' Lately, California, and Stay Home. Known for their high-energy live shows, Big & Rich creates a party vibe and atmosphere at every event they participate in.